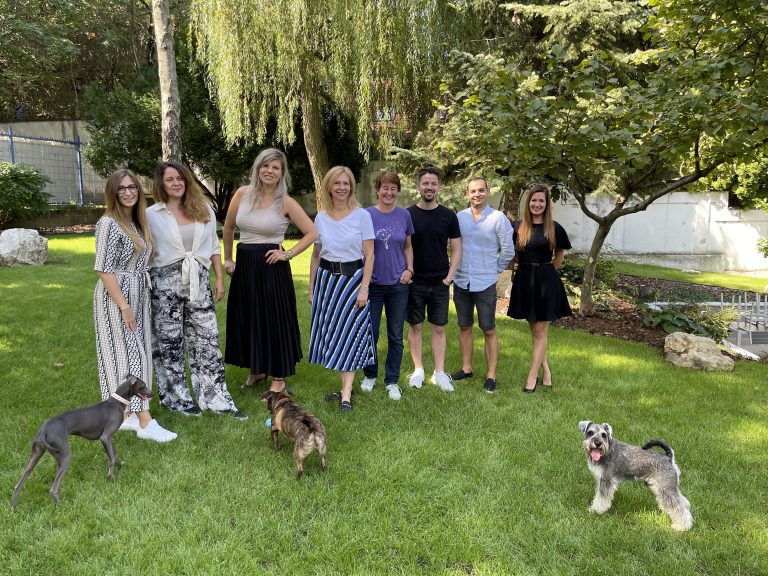 Lounge Group was established in 2004. The now exclusively Hungarian-owned company has grown into a full-service agency with a portfolio of diversified services. The group is constantly growing: besides Lounge Design, New Land Media, Lounge Communication, Media Dynamics, Lounge Event and Dashboard Solutions, Visual Europe Group is also a part of Lounge Group, playing a decisive role in the European event/visual technology industry. Thus, in 2022, Lounge Group has entered the international scene.
The group helps its clients from conceptualizing ideas to implementing them, whether it is designing creative materials, preparing printed or online materials and interfaces, designing and producing commercials, or implementing integrated PR and marketing campaigns, and organizing large scale events.
Its clients include both local and international companies, as well as various institutions of the government and public administration. In addition to strategic planning and the implementation of integrated, 360-degree promotional campaigns, Lounge Group has also achieved significant success in recent years in the field of communication projects funded by the European Union. Our goal has been the same for 18 years now: to create something lasting with every assignment.
Lounge Group has its own research department, conducting an international research about the American elections and voting preferences, while their ongoing project is a HR related "work dynamic" research.
Year after year, the company wins more than 100 awards at creative, media, event and PR competitions. It is a proud Apex, MUSE and Eventex gold winner.
Besides the awards, Lounge Group became a Google Premier Partner in 2022, meaning that the digital department passed all the exams supervised by Google. Also, the company has been rated to the top 3% companies in Hungary.
"We believe that it is necessary for everyone to understand everything regarding professional work, and to handle each topic in depth and as an expert. Besides this, the regulation of our processes ensures uniform, high-quality customer service. Our credo is that there is no unsolvable situation, only a bad attitude, which is why we develop solutions for our clients that can be implemented considering the given circumstances, even in the most extreme cases."
One of our shortlisted projects was with National Sport Online, the most popular and most visited Hungarian sports page. Its main focus is broadcasting creative youth productions related to sports and presenting educational topics related to athletics/sporting activities. The campaign aimed to raise awareness and promote traditional sports among younger generations, especially Generation Z, since, besides a healthy lifestyle, youth development is also a priority for both Hungary and National Sport Online.
During our campaign, we used TikTok that is more than suitable for reaching the target group and for approaching traditional sports from a funnier/more tabloid-style side.
The number of followers of the National Sport Online TikTok profile increased during the campaign by 160%, and given the current numbers, follower attrition was not observable, so we can continue to organically convey information about athletics/sporting activities to the target group, thereby also helping educational efforts.
The second shortlisted project was with The Szerencsejáték Plc. (Hungarian National Lottery supports Hungarian sport, music and cultural life. They have organized free Super Concerts for the general public since 2018.
In September 2021, Szerencsejáték Zrt. brought back the opportunity to have some liberating fun and joy of being together to its target audience. In 2021, many epidemiological restrictions remained in place in Hungary, not even the Sziget Festival, a music event known in Europe was held in August, but Szerencsejáték Zrt. considered it important to bring back these experiences into people's lives and to support the Hungarian musicians.
The number of participants was 35,000 (44,000 people watched the event including the online stream), exceeding the goal by +57%. In addition, target group attitudinal objectives were not only achieved but exceeded.
The Hungarian Tourism Agency's domestic campaign was our third shortlisted project, called The Land Came to Life. After a one-year break due to the coronavirus situation we encouraged the Hungarian population to explore and get to know the domestic landscapes. The campaign was based on a data-driven approach, with creative materials presenting 11 different tourist areas targeting different regions, based on the previous volume of guests arriving from the sending area and the most popular destinations in that region.